Who we are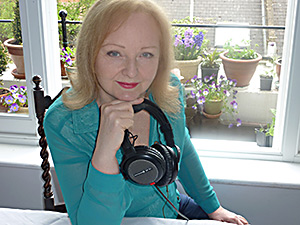 The Listening Centre, London was established by Ella Williams in May 2001. Ella - also known an Elita, first became aware of the work of Dr.Tomatis whilst performing in Strauss's "Elektra" at the Sydney Festival in 2000. Fascinated by what she read, she resolved to take a course of therapy in the pursuit of an ever more perfect presentation as a singer and performer, but what followed changed her life fundamentally. Resolving to learn more about the therapy, rather than just to undergo it's powerful transformational effects, she studied to be a consultant and therapist at the Alfred A.Tomatis Foundation with Alex Smith and Patrick De La Roque at the Listening Centre Lewes. Professor Tomatis founded this institute in the United Kingdom in the 1990's after distancing himself from the original centre in Paris.
Apart from 12 years experience as a listening consultant and therapist, Ella brings to the therapy a lifetime of experience from the stage and in particular the correct technical use of the voice. She has had the privilege of being taught by many renowned international classical singers who have imparted their knowledge and insights. Apart from singing she also performed as an actress in Vienna and gave the first German language performance of Copi's Madame Morti. Although not having German as a mother tongue, she is fluent in German. Ella's direct experience of the change the Tomatis Method made in her own vocal production is best summarised in Tomatis's own words, "we sing with our ears". For Ella, the foundation of any career in which effective communication plays an important role, is based on correct listening. She has worked with high profile English and non-English speaking actors to perfect their English pronunciation, their delivery, breath control, intonation, and flow for stage and films roles. For actors who have role preparation, or musicians who wish to work on their solo performance, Ella offers Tomatis coaching packages.
Ella has given public presentations and talks on the Tomatis therapy and had interviews on radio and television about Tomatis and his work. She has also has articles published in a number of publications and journals.
Due to Ella's long professional experience understanding and producing high quality sound, only an analogue sound system is offered, as digital sound cannot achieve the same quality, vibrancy and life as analogue. Against the trend, she remains true to the original Tomatis method using analogue sound as devised and offered by Dr Tomatis. Because of Ella's background, the Listening Centre, London, deals with the voice, music, language and self-development. The centre has treated successfully; actors, musicians, singers, artists, sportspersons, barristers, public relations executives, public speakers and teachers. The centre also treats children with a variety of communication challenges, as well as aspiring to achieve even more in their talents, creativity, skills and academic performance. Although Ella is a classical singer, she deals with all forms of singing and music; popular, new-age and musical, as well as classical, but she derives great pleasure in teaching those to sing who always thought it was impossible for them to do. Through the Tomatis therapy, there is a pleasure entirely wonderful in showing people that there is much more for them to discover in themselves than they thought possible, and to observe the opening up of their talents and gifts. Ella has an interest in holistic healing and artistic expression This enriches her practice in that there is a openness to alternatives and possibilities previously not considered. Ella has an awareness of fine detail and beauty which she imparts to her clients as an intrinsic part of listening. The Listening Centre, London, is open six days a week from 8.30am to 8.30pm Monday to Friday and Saturday from 8.30am to 2.00pm. Its nearest tube connections are Highbury and Islington on the Victoria line (one stop north of Kings Cross) and Arsenal on the Piccadilly line.